5 Reasons to Always Use Certified R2 Escrap Recycler
R2 recycling certification or R2 certification is based on the R2 recycling standard and is offered on a company level. The TAC (Technical Advisory Committee) issues it to electronic recycling companies and requires them to have a policy on e-waste management based on energy recovery, proper and responsible disposal, and reuse of materials, components, and electronic devices. It is e-waste disposal's primary certification and is overseen by the Sustainable Electronics Recycling International (SERI), which is a nonprofit organization. Certified R2 escrap recyclers enhance the compliance posture of their client businesses and ensure that their e-waste is dealt with in a protected manner and any unforeseen consequences are minimized.   
The R2 standards and regulations pertaining to a number of recycling aspects, including: 
Environmental, health, and safety management system 

Reuse and recovery 

Hierarchy of responsible management strategies 

Legal requirements 

On-site environment, health, and safety 

Focus materials 

Tracking process  

Secure and responsible data destruction 

Storage 

Certified Facilities

Transport 

Record keeping 
The R2 certified electronics recyclers are extensively and carefully audited by the certifying bodies before they have issued the certification. This means that ertified R2 escrap recyclers can be relied upon and trusted on all ends of their operations and services. 
Here are five reasons why corporates of all sizes and operating in all sectors and industries should always go with only R2 recycling companies as their e-recycling partners: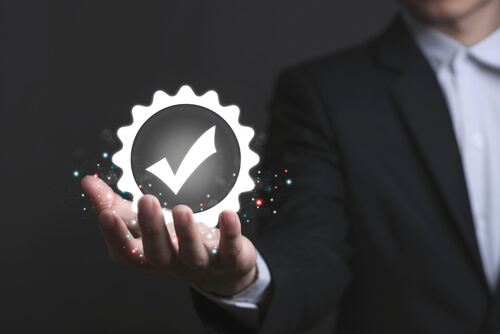 Responsible Recycling Ensures That Your Sensitive Data Stays Secure
As soon as your outdated or end-of-life hardware and IT assets leave your possession, and sometimes even when you have them, they become vulnerable to threats of theft and remote hacking. Confidential data pertaining to your employees, business finances, and customers are too vital to be risked getting into the wrong hands as a single unfortunate event can leave your business at its knees with legal implications and heavy penalties that are associated with data breaches. All businesses need to realize that their legal liability and responsibility stretch along the complete lifecycle of the electronics they own and use, even when they become electronic waste. 
The best solution to this problem and to make sure that all the data on your IT assets stays completely secure is to subject them to responsible recycling. Some organizations try to scrub their data by themselves, which is a highly time-consuming endeavor and, more often than not, an inefficient process as most of the advanced storage devices require special equipment, tools, resources, and software to make the data completely disappear that not all businesses are equipped with. Some businesses in the US also hire security consultants for this task that are highly overpriced when instead the R2 recycling companies in the USA can do the same task in an environmentally friendly, responsible, and secure manner and in much less cost and offer other high-end services as well. 
R2 Certified Recycling Companies Offer Tracking Throughout the Process
R2 recycling certification requires proper monitoring and documenting of each of the processes and e-waste movement. This ensures that your end-of-life devices do not get stolen or get lost, which are likely scenarios if you opt for recycling companies that do not have an R2 certification. One of the best R2 recycling companies in the USA is CompuCycle, which has a secure chain of custody and advanced technological equipment to ensure constant and efficient monitoring and security of all IT assets throughout the transportation, recycling, and hard drive disposal processes.  
Certified R2 Escrap Recyclers Ensure End-to-End Legal Compliance 
R2 recycling companies practice complete compliance with each and every legal environment-protection and data security standard. This allows businesses to get rid of or scale back in-house expertise in these areas and save high costs. A business can ensure fulfillment of liabilities on all these fronts by handing over the tasks, along with the responsibilities associated with them, to R2 recycling companies.  
Commitment to CSR 
Regular customers, as well as executives, are very aware and more informed than ever before on environmental and data privacy and security issues. Regardless of if you serve the B2C or B2B market, you can display a clear commitment towards reducing your effect on the environment by leveraging certified R2 escrap recyclers.  
Increased Profitability and ROI
A high number of high-profile data breaches in the last few years have shaken the whole business industry. Due to this reason, businesses are spending millions of dollars to make their networks more secure and their data safe. It does not make sense to render the same data vulnerable as soon as it leaves your possession when the magnitude of your responsibility attached to it is the same.  
Compliance laws and policies are getting stricter, and ensuring compliance is getting more complex and costly with each passing year. Therefore, the best way to ensure cost-efficient and reliable e-waste management is to hire R2 certified recycling companies that can take care of all your e-recycling needs. 
You can always request a copy of the e-waste recyclers R2 Certificate. Beware of the Following Statements from Non-Certified Companies. These statements do not guarantee industry certifications that protect the environment and your sensitive data! 
TCEQ Certified 

TCEQ Compliant 

EPA Certified 

EPA Compliant 

R2 Compliant 

E-stewards Compliant 

ISO Compliant 

OHSAS Compliant 

Following the guidelines and standards set by the TCEQ and EPA. 
Get in touch with CompuCycle today to schedule a pickup or dropoff of the electronics that you do not need anymore. For more information, please go to www.CompuCycle.com  
Share This Post