What are the best ways to reduce your hard drive shred costs?
Hard drive destruction is critical for your security and compliance with laws such as HIPAA that necessitate the deletion of hard copies. When it comes to disposing off the hard drive, there are many cautions that one needs to take care of, right from data safety to choosing the right method. 
Before discussing the hard drive shredding cost, it is crucial to know that there are multiple ways you can discard a disk: formatting, shredding, or degaussing. As with any service, the cost of shredding hard drives is determined by a variety of factors. Indeed, arithmetic is elementary, with four critical variables determining the shred costs per drive. 
Cost factor 1: Opting for an onsite or offsite shredding
The initial decision is whether to shred the hard drives on-site. Are you willing to take the risk of mailing the drives to an offsite shredding location? Onsite shredding, which involves bringing a mobile data destruction truck to your company, is more expensive but significantly more secure than the onsite hard drive shredding process. 
Cost Factor 2: Quantity of hard drive
As with any other aspect of purchasing, bulk and contractual agreements help reduce expenses. No matter how many drives are awaiting data destruction, the flat cost of dispatching a shred truck with a driver and specialist to a site remains the same. 
Shredding small quantities of hard disks (25 or less) on site can be quite costly, shooting as much as $40 per drive. One way to plummet the cost of computer hard drive shredding is to increase the number of drives to be destroyed. 
Cost factor 3: Factor in the equipment
The equipment's quality and upkeep are critical. This comprises the age, type, capacity (volume and speed), dependability, and upkeep of both the shredder and the vehicle. Also, one needs to focus on one critical component of maintenance, the teeth of the shredder machinery must be sharpened regularly to cut through hard drives. Although SSD shredders shred smaller drives, the crushed particles have an endless number of spins, increasing the frequency and attentiveness of maintenance. 
Cost factor 4: The professionals involved
Typically, a shred truck will have a driver and a technician on board. They'll collaborate to complete the job properly, beginning with the pickup, the associated paperwork, and the actual computer hard drive shredding process. Everybody who encounters your data-laden equipment must be qualified. This indicates experienced crew members who are NAID AAA certified, bonded, and have passed a comprehensive background check. Additionally, they need to be trained to collaborate with the client's onsite crew in a competent, courteous manner and to adhere to the security protocols established for each shred operation.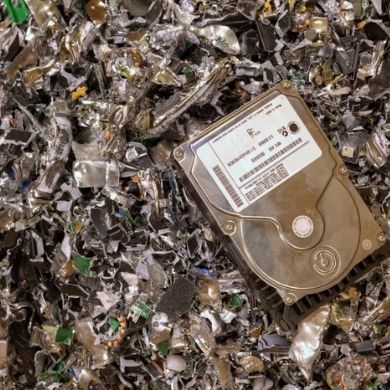 How to go about reducing the hard drive shred cost?
Timing flexibility 
If you have some wiggle room in terms of dates and pickup times, this enables our dispatch team to schedule you at the most advantageous scheduling opportunity. Reduce trip fees to save money. 
Churning out Raw Materials 
The best part about the onsite data destruction programs is the availability of the right tools. At CompuCycle, we use 2 SSI 4 shaft shredder, a magnetic eddy current system, and optical sorters that generate steel, plastics, aluminum, and circuit boards that are direct to refineries and smelters. This new computer hard drive shredding mechanism can generate 40,000 pounds of material per shift. When it comes to efficient processing, CompuCycle leads the way as a pioneer of sophisticated shredding systems in Texas capable of processing electronics scrap and separating them into raw materials. Such materials are used for feedstock and later shipped to smelters, refineries, and mills. 
The adaptability of data destruction 
Data destruction is an umbrella word that refers to various physical "shred-style" procedures, including mutilation, pinning, crushing, shredding, and pulverization. Depending on the device, industry, contract, and regulatory requirements, you may be able to save money by altering the data deletion method. 
Higher quantity 
As discussed above, you can benefit by bringing in larger quantities of hard drives to benefit from economies of scale. In other words, it costs the same to send a truck to a single place for five trips as it does for 500. 
Establish a shredding calendar:   
We have clients who require weekly collections. Some are only held once a month. Others are occurring in bursts throughout the country. If you have scale and enterprise on your side, we will assist you with a program, even if it rotates weekly between different locations across the country—alternatively, a month.  
Determine the required shred size:  
This is a straightforward time calculation: it takes longer to tear a drive down to 2 mm (dust) than it does to shred it down to 20 mm (dust) (small pieces.) If you have flexibility, you can directly assist in cost reduction. Request sample shreds to evaluate final shred sizes. 
The total cost of shredding the hard drive 
Considering all the parameters mentioned above, the cost of hard drive shredding can range from less than $5 to $25 per drive. At CompuCycle, our experts assist you in developing cost-effective techniques for hard drive shredding in Houston while ensuring the greatest possible degree of consistency and security. 
We work with businesses to offer them competitive pricing for hard drive shredding without skimping on the quality. 
Talk to us and discuss your requirements as CompuCycle. We will help develop a data destruction program for hard drive and other IT asset disposition that satisfies your needs matches industry standards and help you stay compliant.