CompuCycle's Secure and Compliant Hard Drive Destruction Services
One of the most important components of a computer is the hard drive. Businesses deal with a lot of data on a daily basis, and all this data is stored in, you guessed it, hard drives! 
Most businesses these days try to rely as little as possible on physical storage, using the advances in cloud computing and storage to manage their data needs. Yet, we are not in a position to move on completely from physical hard drives right now. 
So long as businesses depend on hard drives to store and manage data, security risks will continue to exist. This is why organizations have strong security policies for all IT assets when they're currently in use. 
The issue from where we stand is that many companies still don't have a policy for compliant and secure hard drive destruction. CompuCycle is one of the leading e-cycling companies in the U.S. We can manage any volume of IT assets and hard drives to safely dispose of them through our state-of-the-art processing plant. Let's take a look at why hard drive destruction is so important. 
Reduce Security Risks
It wouldn't be called secure hard drive destruction if we didn't talk about the security challenges that old hard drives can present. When in use, people store all kinds of data on their computers. This data is naturally kept on hard drives. 
Most files are deleted once they're no longer needed, while some stay on the drive indefinitely. Deleting isn't enough to erase all the sensitive data from your hard drive. This is a scary thought, considering the amount of data an organization churns through in just a day. 
Think about all those confidential emails, internal correspondence, proprietary research, targets and insights, and much more that have been in one of the hard drives in your organization. Data extraction technology has come a long way over the years, and hackers can go deep into hard drives and recover data that was once stored on them. 
This is why the best security practitioners know that it is not enough to dispose of old hard drives and delete the data. Hard drives, once they are no longer being used, must be securely managed. This is where hard drive data destruction service like CompuCycle comes in. CompuCycle ensures that the data on the hard drive is completely and safely wiped off before recycling it or deconstructing it for constituent parts.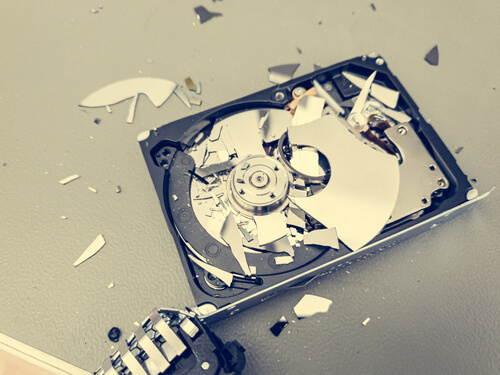 Keep Up with Compliance
The ever-increasing demand for consumer electronics has led to a spike in the amount of e-waste on the planet. Climate change and our role in it can no longer be ignored. As such, governments at every level are trying to strengthen regulations surrounding e-waste. 
In the past, companies have gotten away with simply giving away their e-waste to be thrown in landfills all over the country. Public sentiment and scientific insights have forced governments to maintain a firmer stance on such practices. 
As a result, the Federal government and most states require organizations to be more responsible with their e-waste. This means that they can no longer have it dumped in landfills. Hard drives are a common item that gets thrown away and discarded after use. 
Considerable fines are being imposed on companies that do not use compliant and secure hard drive destruction. As a leading computer hard drive destruction service, CompuCycle ensures that you get the best deal possible when you come to us for your hard drive destruction needs. We not only have processes that follow the processes used by the Department of Defense, but we also provide a host of logistical options to make sure the entire process is as secure as possible. 
Furthermore, we try to get you as much value back as possible on all your data-bearing devices and hard drives. That means that first, we wipe off the data through our industry-leading processes. Once the hard drive is securely wiped, we assess if it can be sold as-is in a system. If it can be sold, we simply recycle it and get fair market value.  We then can give value back to our customers. 
If it cannot be recycled due to damage or the nature of the data stored on it being too sensitive, we break the whole thing down into its raw components with our processing plant. Any item that cannot return any value is securely and responsibly shredded. 
CompuCycle is the right partner for secure hard drive destruction. Please know CompuCycle can also offer onsite data destruction if that is your corporation's requirement. CompuCycle will follow its security processes to ensure that your data remains secure and that you remain compliant with all federal and state regulations. 
Share This Post