Smart Waste Management: Let's Make the Future Better for the Earth This Month
Trash collection and e-waste management are services that are usually taken for granted. However, as soon as anything goes wrong, there is a significant issue that is highly visible. This shows that for more people than not, living in environmentally safe, healthy, and clean conditions is of paramount importance. In this article, we will evaluate a few ways in which corporations can ensure smart electronic waste management and disposal.  
Understanding the Significance of Waste Management Electronics Recycling 
The first prerequisite of smart e-waste management is to gain a thorough and deep understanding of the importance of electronic waste management. For businesses, proper and smart digital waste management means a safer and cleaner environment to work and live in. The consequences of poor e-waste management include landfill intoxication and legal implications. Furthermore, improper electronic waste management also means confidential data breaches that can put organizations in a great deal of danger.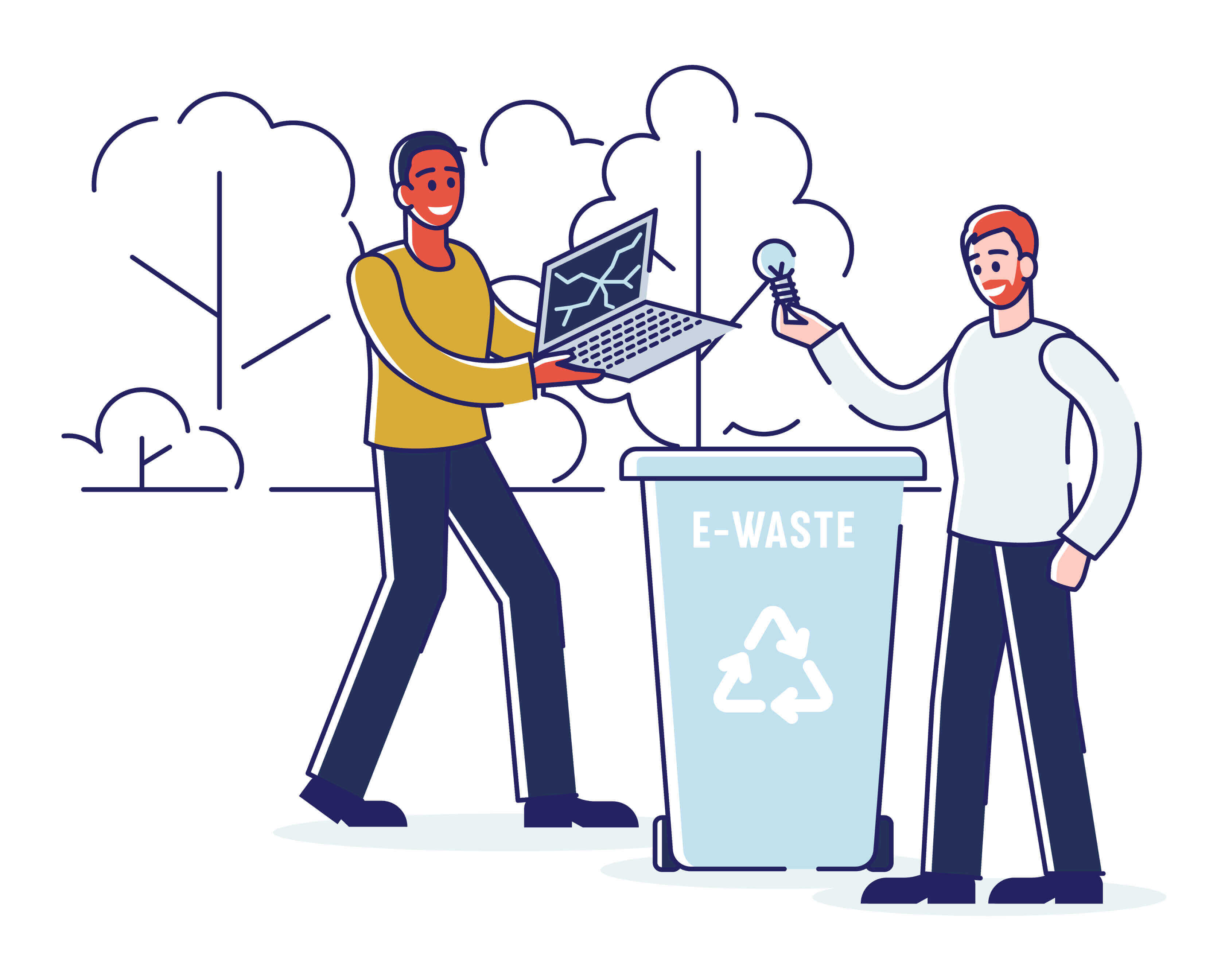 Here are steps you need to take to mitigate the risks associated with poor e-waste management: 
Re-Evaluate 
Businesses need to re-evaluate their needs for electronic equipment and IT assets. With advancements in technology, many multi-purpose electronics are available in the market that helps in diminishing global e-waste while serving business needs and requirements in a suitable manner. However, it is true that, at times, IT devices need to be replaced, whether because they extend the end of their lives or become obsolete. Businesses cannot afford to lag in technology and must ensure up-gradation to the latest digital tech.  
Extend the Life of Your Devices 
Ensuring proper care and maintenance of the electronics employed in your organization through a proper management system can ensure longevity when it comes to the lifespan of different devices. Smart electronic waste management requires companies to devise strategies and develop plans that elongate the lives of their electronics. This includes taking proper care of them and subjecting them to regular maintenance.  
Using Refurbished Electronics 
This is another factor that requires one to be a part of the re-evaluation process of an organization. If certain refurbished devices can serve the operational purposes, you require for the new devices, it is better to go for them instead of buying brand new ones. Make sure to buy it from a certified and reliable refurbishing company, like CompuCycle, so that it not only saves you money but has and warranty and functions efficiently for years to come. 
Partnering With a Certified E-Waste Management Company 
There are a number of e-waste management companies out there, but only a few are experienced, dependable, and certified. Proper electronic waste management requires organizations to ensure proper, responsible, and secure data destruction and recycling of their redundant IT devices and electronics. For this purpose, an IT asset disposition (ITAD) and an e-recycling company that offers secure and responsible electronic disposal are who a business should choose when looking for a partner. 
The benefits of choosing a certified e-waste management company to manage your e-waste include: 
Ensuring that the corporate, employee, and consumer data that your electronics hold is securely destroyed 

The e-waste generated by the business is thoroughly tested, and the reusable devices are refurbished and resold 

The non-reusable electronics are extracted of their remaining value through precious metal extraction. 

The residue is properly and securely disposed of through environmentally friendly processes. 
Partnering with responsible and certified e-waste management companies like CompuCycle, benefits organizations, and businesses in several different ways. It ensures that the financial, employee and consumer data of companies do not reach ill-meaning hands and that the enterprise remains compliant with all the local and international e-waste management laws and regulations. What is more, is that businesses get value out of their redundant IT assets when they get refurbished and resold.  
CompuCycle is R2 certified and has over 25 years of experience in the electronic waste management industry. The ITAD service has a robust and completely secure chain of command and offers a number of services, including secure electronics disposal, asset testing/auditing/inventory, asset refurbishing, value recovery, and onsite and offsite hard drive shredding, and data center decommissioning. 
E-waste management is not just about the protection of the environment but mitigating various threats as well. The global e-waste problem has been rising quickly, and it is high time something was done about it. Therefore, businesses of all sizes and operating in all sectors and industries need to make a resolution to play their part in creating the world a better place to live in for future generations. Together, we can mark this month with the desire and determination to make a difference. Get in touch with CompuCycle today to ensure proper e-waste management.
Share This Post