The CompuCycle Plastics Plant: Giving a New Meaning to Full-Service Electronic Recycling​
By the end of 2023's first quarter, CompuCycle will launch a plastic plant to provide another service for the betterment of companies and the environment. This will make CompuCycle the only woman-owned, full-service, state-of-the-art, Texas-certified recycling, processing​ and plastics plant!​
We are proud to be a one-stop solution for all end-of-life IT asset management and disposal services. Learn more about how our services can make your company better.​
​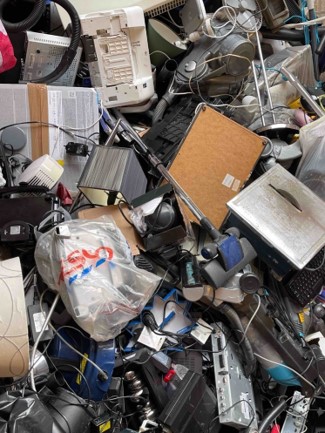 Why Implement a Plastics Plant?​
Reusing and recycling tactics are far more environmentally ethical than the unnecessary demand for new materials. The Basel Action Network is working to expose the exportation of trash plastics to developing countries, an unsustainable practice that allows higher-income nations to act without accountability.
In fact, the U.N. Environment Programme reported that each minute, the equivalent of a garbage truck of plastic is discarded into our oceans. Much of this plastic is considered low- grade and is not processed correctly. A prominent source of low-grade plastics? Electronics.​
​
How Does the Plastics Plant Work?​
CompuCycle aims to shed light on these practices while providing a reliable, secure solution to companies seeking end-of-life IT asset disposal. That is why we have implemented a sink-float system in our processing facility that is specific to plastics.​
There are various types of plastics used in electronics: ABS, PS, PP and PE. The sink-float system washes these materials, separates them by density and then sets them up for reuse. If the plastics cannot be reused, the next step is to repurpose them for fuel recovery.​
One of the challenges we will combat with this system is the opportunity to treat the electronic plastics covered in flame retardant. This is a common feature in electronics, yet overseas processing companies cannot correctly recycle these materials. By utilizing our sink-float system, you will be keeping these materials in the U.S. for proper recycling— significantly reducing your carbon footprint.​
The Fight Continues​
We believe there is always a solution to recycling materials for reuse, and we have dedicated the past 25 years to innovating our procedures for this purpose. We are the only electronics plastics recovery plant in Texas, making us the first and only tier for e-scrap disposal. But we refuse to stop there—our next goal will allow CompuCycle to palletize plastics for domestic use.​
We envision a future where the materials making up a laptop can be fully recycled in order to make a brand-new laptop… and so on. There doesn't need to be a lifespan when it comes to electronic materials; they can live on and be reused over and over again, helping create a sustainable world.​
Our plastics plant is another step towards this goal. For more information, contact us! We are happy to set up a tour of our facility.
Share This Post