The Importance of Data Center Decommission Project Plan
Taking on even the simplest of projects without a proper plan can prove to be detrimental. Datacenter disposal is a complex task and requires a proper data center decommissioning plan for it to be secure and successful. There are a number of risks involved in the project that can be mitigated through proper planning. It is common for the stakeholders to be thinking about the new technology and equipment before initiating a data center decommissioning project while ignoring the vital step of planning what to do with their old IT equipment and devices.  
The importance of a data center decommissions project plan cannot be undermined as the endeavor makes the IT equipment and the data stored on it vulnerable on all fronts. The tools and devices that you plan to use after the project and those that you do not, both can be penetrated if you do not devise a proper strategy for each of them. Therefore, it is crucial to get assistance from reliable data center decommissioning services, like CompuCycle, to make the process and all your data secure. Planning for data center disposal is important because it: 
Assigns responsibilities to each team and individual and prevents misunderstandings and problems by ensuring that all stakeholders are fully aware of all the steps that will be taken to prepare for how the data center decommissioning process will affect them.
Determines a project manager that leads the process and is experienced with it. If you do not have someone in-house that holds vast experience with decommissioning a data center and is highly specialized, going for expert data center decommissioning companies is the right thing to do.
Ascertains and allocates a budget that can exceed significantly without careful planning. When you use data center decommissioning services, like CompuCycle, your data center decommissioning project might even become profitable for you if the value of your old IT assets is high.
Establishes an estimated timetable and schedule for hard drive disposal and enables the project to stick with them as delays can cause huge losses to all stakeholders.
Helps in creating a detailed scope of work by outlining all removal and demolition stages as well as each process and safety procedure.
Ensures careful and extensive physical discovery and verification of all inputs.
Allows for the asset and environment maps to be updated after all audits are completed.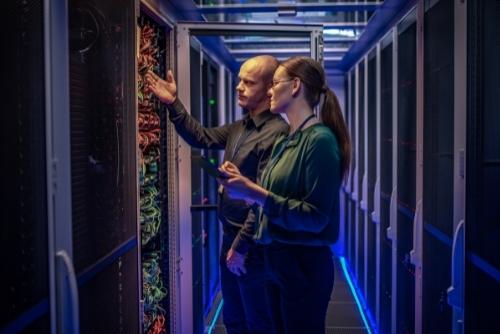 A careful plan for the old and redundant IT assets is also of huge importance as lack of that planning or a weak one can lead to the following consequences and risks: 
Security Threats 
Systems that you cease to support are vulnerable to the latest security threats but do not get upgraded security patches to guard those threats. They are at significant risk of cyberattacks even if you do not use them for any business functions. Once they are subjected to penetration, your network can get filled with malware. Even if you render your old devices inactive, a malicious insider can extract data from them, and you will not be able to detect it as the devices are shut down. 
Spending 
Devices that are idle do not cease to draw power and therefore still cost with cooling and electricity expenses. Additional racks and bigger storage space are also expenses associated with old IT assets. Transferring licenses is another aspect that needs to be taken care of, or software costs can quickly add up, too. 
Usage 
When you do not disconnect your old devices, your server will have critical information and process without backups and monitoring, leaving them vulnerable to risks.  
How Data Center Decommissioning Companies Can Help?
Decommissioning a data center is a complex task that requires experience and expertise in the area for it to succeed. Proper steps have to be taken in a specific sequence to ensure that no stakeholder faces any losses or downtime as a result of the data center decommissioning process. To that end, best-in-class data center decommissioning project management and a specialized and custom-crafted data center decommissioning plan is required that data center decommissioning services can easily devise for you. 
Furthermore, data center disposal is another factor that specialized and experienced companies take care of in an efficient manner. You cannot just dump the IT assets that you do not need anymore in the trash as many hardware devices can be retrieved of the confidential and sensitive data that was previously stored on them. Datacenter decommissioning project management services use specialized tools, software, and equipment to wipe off all the information on the hardware before physically destroying it to ensure a secure wipe-off of the data. 
The weaker a data center decommission project plan, the more chances there are of the data center decommissioning process to face delays, discrepancies, additional costs, and threats. To ensure that your data center disposal runs smoothly and your data center decommissioning plan is as strong as it can get, get in touch with CompuCycle today. For more specific information on data center decommissioning, please go to Data Center Decommissioning | ITAD Service | CompuCycle 
Share This Post