What is the Cost of Confidential Media Shredding?
If your company has outdated or old equipment that is not fit for use anymore a secure hard drive shredding process is what you need for complete brand identity protection. A misconception steadily prevails that when a hard drive or any other storage device is formatted, its data ceases to exist. It is far from the truth as the information that was previously stored on it can be restored, and a data breach might occur that can threaten the ex-owner of the drive or their customers.  
Whether you run a small, medium, or large business that is retail or manufacturing and operates in the legal, education, healthcare, public, private, or financial sector, there is always some media with inside information that is confidential and sensitive. It is imperative for the business for that information to vanish from the face of the earth during media shredding and media destruction. If you are looking to hire media destruction services for secure hard drive shredding, pricing is always a key consideration, as you should know what you are paying for and their process. 
There are some data shredding services out there that are not compliant with international standards and do not exercise due diligence while performing computer hard drive shredding or electronic shredding. It is crucial for the safety and health of your business to opt for media destruction services that are certified and highly credible, and responsible. CompuCycle is your best solution as it offers you proper documentation and certification for data and media destruction.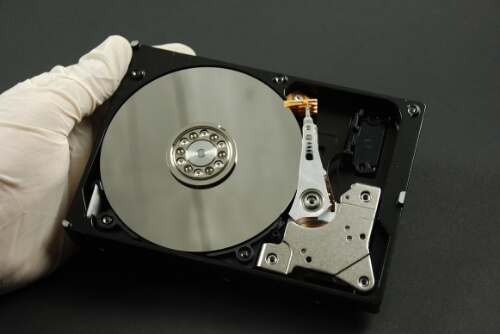 Pricing for Media Shredding 
There are several factors that come into play while you are charged for data shredding services and media destruction services. Most of the companies overcharge you for the services they offer, but CompuCycle is more inclined towards its green objectives, thus, maintain its cost-efficiency to attract more customers. Usually, the cost hovers between $50 to $300 depending on many factors that include the type of service you require, the volume of the media, and the location you are at, etc. 
If you are dropping off your media for shredding, the cost is most likely to go down. A one-time electronic shredding usually costs a bit more than if you are partnering up with a data shredding services company for scheduled pick-ups or monthly data shredding services. Similarly, different services, such as paper shredding, computer hard drive shredding, and media shredding, etc., all cost differently. Media shredding offers you the disposal of floppy disks, magnetic backup tapes, DVDs, and USB devices.  
To know the exact dollar cost of your e-recycling needs, you can request a quote from CompuCycle. CompuCycle offers both on-site and off-site services. 
It is imperative that a media shredding and recycling company accommodates the needs of both small and large-scale organizations pertaining to how they charge them. The pricing model should have a fixed profit margin so that businesses with low volumes of media destruction requirements do not get overcharged. Most of the media destruction services have high-charging pricing models, especially for specialty or media shredding, when their cost for destroying them is the same as that of simple hard drive shredding. CompuCycle's pricing model caters to its customers with tailor-fit models that are customized to their clients' needs. 
Along with pricing, customer care, and reliability also add to the returns on investment in the long run. A partner that goes above and beyond for you to take care of your media shredding needs is the one you want to go with, even if there is an unreliable company offering you lower prices. The quality of security of the chain of control, capabilities of the staff and team, and a strong commitment to the protection of the environment are crucial to be the features of the media destruction services you hire. If you have any upcoming needs with media shredding or destruction services, please visit CompuCycle to create an easy solution. 
Share This Post