Why Progress Reporting Matters at CompuCycle
As shown in our progress reporting for a client in 2022, CompuCycle recycled hundreds of thousands of pounds of electronics that otherwise would have ended up in a landfill overseas. Not only do we recycle your IT assets, but we also process all materials—eliminating further downstreaming. In fact, we are the 1% of certified e-cycle companies that collect, refurbish and process assets without additional downstream.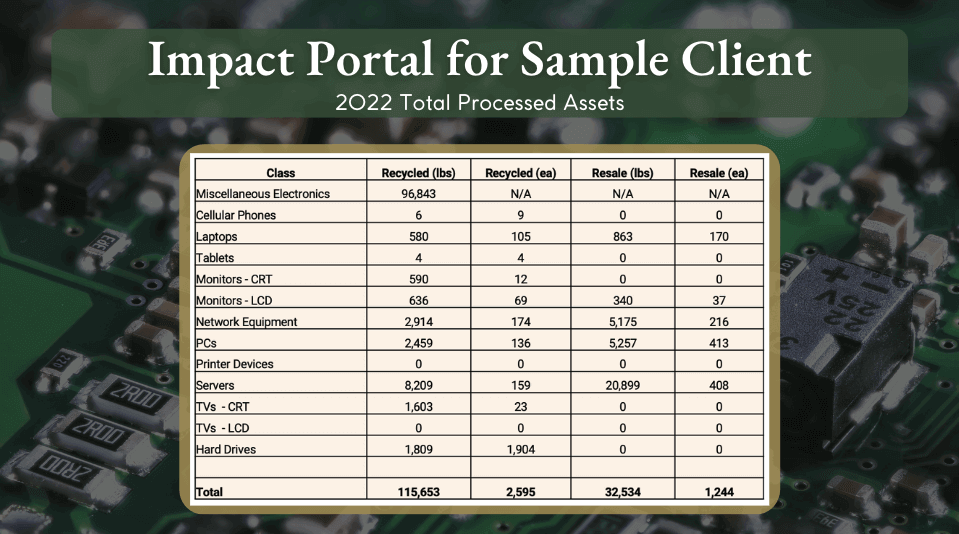 Progress Reporting at CompuCycle
With each product we receive, we generate an audit report and an inventory report specifying the make, model, serial number, and asset tag number, as well as the state of its final disposition (sold or recycled). This ensures productivity and reliability for our customers. CompuCycle also provides a Certification of Recycling, Certificate of Destruction, and Certificate of Disk Sanitation to ensure that equipment is properly handled throughout the entire process. 
Our business focuses on refurbishing equipment for reuse, reuse of components, and environmentally responsible e-waste recycling. Contracting with CompuCycle means peace of mind knowing that your company's end-of-life IT assets are being managed responsibly and safely—with a secure chain of custody and detailed progress reporting. 
Transform your IT Department
Transform your IT Department from a cost center into a profit center. We provide new and end-of-life IT asset management services so your IT staff can focus on growing your business. Progressive IT asset managers seek to minimize corporate liability by ensuring data is properly destroyed and assets are reused or recycled responsibly.  
Ensuring the proper disposal of your old electronics will position IT departments as indirect revenue makers, helping the sustainability departments report positively to stakeholders and clientele. 
Audit Reporting and Asset Management with CompuCycle
CompuCycle provides documentation demonstrating that the data is properly destroyed and the assets are reused or recycled with the addition of progress reporting. We can guide best practices to ensure corporate compliance for our customers. Please contact us to learn more about our different Audit Reporting and Asset Management services. 
Share This Post