2014 ABC13 Earth Day E-Cycling Drive
Last Friday was the big ABC13 Earth Day E-Cycling Drive, and we were thrilled to once again participate as the electronics recycling sponsor! As our 7th consecutive year participating in and sponsoring the Earth Day E-Cycling Event, we were thrilled with the turnout, the excitement within the community, and of course, the number of electronics collected.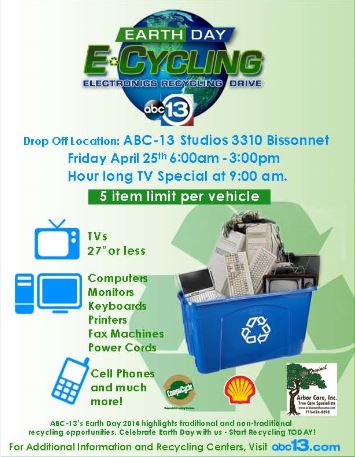 This year was fascinating because we applied to set a Guinness Book of World Record for the "most consumer electronics recycled in an 8 hour period at one venue." The minimum requirement for our new record was 13,910 pounds, and we are excited to announce that with your help, we were able to exceed that amount and collect over 128,000 pounds of electronics!
We had a terrific time and are always grateful for the opportunity to educate the local community on the importance of E-Cycling and why Houstonians must recycle with a certified facility like CompuCycle!
If you couldn't make it out to the ABC13 Earth Day Event, you can always recycle your electronics at our facility free of charge.
Share This Post