E-Waste Solutions That Actually Make a Difference
With each passing year, new gadgets and devices hit the market, making older ones obsolete. This rapid turnover has resulted in a staggering amount of electronic waste, or e-waste. As one of the top electronic recycling companies in Texas, CompuCycle is committed to providing e-waste solutions that not only benefit the environment but also help businesses navigate the complex world of IT asset disposal.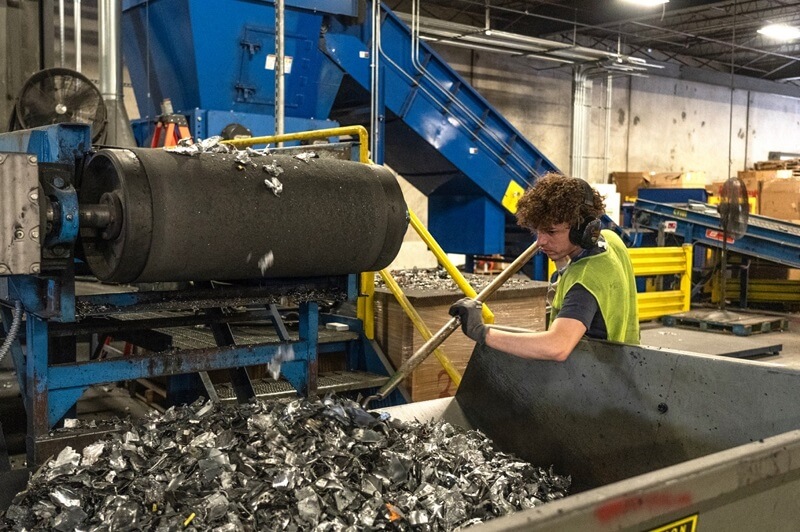 The Challenge of E-Waste
E-waste poses a significant environmental challenge due to its toxic components and improper disposal methods. In addition, e-waste often contains valuable materials that can be recovered and reused, reducing the need for resource extraction. 
At CompuCycle, we recognize the importance of responsibly managing e-waste and strive to create sustainable solutions. This is why we've successfully undergone the e-Stewards designation, aligning our values with the organization's commitment to domestic e-cycling measures.  
IT Asset Disposal
Proper IT asset disposal is crucial for businesses to protect sensitive data and ensure compliance with regulatory requirements. CompuCycle offers comprehensive IT asset disposition services tailored to meet the specific needs of our clients. Our experienced team leads in industry best practices to securely and efficiently manage the entire lifecycle of IT assets, from data destruction to responsible recycling. 
We understand that businesses face challenges when dealing with end-of-life technology, and our goal is to alleviate the burden by providing a seamless and secure IT asset disposal process. By partnering with CompuCycle, companies can trust that their data will be securely destroyed and their electronic devices will be responsibly recycled or refurbished, mitigating the impact of technology on the environment. 
Electronic Plastics Recycling Plant
CompuCycle is proud to announce the opening of our state-of-the-art plastics recycling plant, a significant step towards addressing the plastic waste crisis that technology contributes significantly to. In fact, 20% of our global e-waste is comprised of plastics.  
This advanced facility will allow us to recover and process plastics from e-waste in an environmentally friendly manner. By transforming discarded plastics into valuable raw materials, we are reducing the reliance on virgin plastics and contributing to a circular economy. 
Our plastics recovery plant employs innovative technologies to sort, clean, and process Polystyrene, ABS, Polyethylene, and Polypropylene plastics found in e-waste. By adopting this cutting-edge approach, CompuCycle is maximizing the recovery and reuse of valuable resources while minimizing the amount of plastic waste that ends up in landfills, pollutes our oceans, or is subjected to incineration.  
E-Waste Solutions: Building A Sustainable Partnership
CompuCycle recognizes that effective e-waste management requires collaboration between businesses, government agencies, and communities. We actively seek partnerships with organizations that share our vision of a greener future. By working together, we develop tailored sustainable solutions to create a positive impact on the environment and society as a whole. 
Our commitment to environmental stewardship extends beyond the borders of Texas. We continually invest in research and development to identify new technologies and processes to enhance the e-waste recycling industry. Through innovation and collaboration, CompuCycle aims to set new standards for responsible e-waste management across the globe. 
From secure IT asset disposal to the upcoming plastics recycling plant, we are dedicated to mitigating the environmental impact with tailored e-waste solutions. Work with one of the top electronic recycling companies that sets the standard of electronic sustainability. Contact us today to get started. 
Share This Post