How much exclusive service does your data center decommissioning will need?
If you own or work in a data center, you would know that managing it requires specialized expertise. This expertise is limited to operating the data center and not decommissioning it. When you take on the endeavor of data center decommissioning, huge risks of sensitive and confidential data falling into ill-meaning hands get involved in the process. Professional data center decommissioning services not only eliminate that risk but make the whole process smoother and hassle-free.  
Data centers are filled with information related to clients and their customers. While the operation managers take on their data security responsibilities with the help of IT systems and infrastructure security, decommissioning a data center is a process that has vulnerabilities and open wounds as an inevitable part of it. While you shut down and move your IT infrastructure, the security software also gets powered off, and the transitional and weak span is just what cybercriminals and opportunists seek. The best, if not the only way to keep all the data that your data center holds completely secure is to look for assistance from certified, experienced, and professional data center decommissioning services.  
The security of data has to be your number one priority during your data center decommissioning process, regardless of the size of the infrastructure, as it is complex from one end to another. The crucial data center decommissioning services that you vitally need to efficiently and securely manage the process include: 
Safe and secure removal of machinery, equipment, and tools, such as computers, UPS, cabling, accessories, switches, and servers, etc. 

Hard drive destruction and data sanitization of all storage materials and devices 

Secure recycling of end-of-life computers, hard drives, and other electronic devices and IT assets 

Secure disposal of electronics and e-waste 
A successful data center decommissioning project requires you to properly plan and prepare for it. Employees have to make adjustments to adapt to the new system, and clients have to be made to stop accessing data from the previous system. Crafting an efficient strategy and ensuring implementing it can allow you to mitigate time delays and additional or unexpected expenses. Other than the liabilities to different businesses that you serve, you also have to keep in mind the impacts your data center decommissioning process may have on the environment.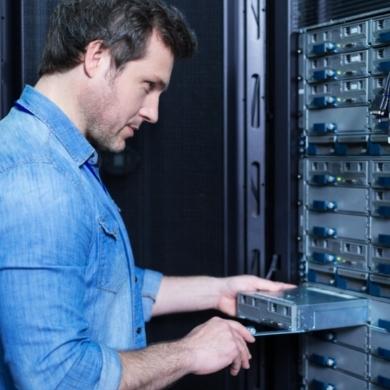 It is important to double-check your agreement of lease to ensure there is no breach of it. It is also always a good idea to pre-inform all the stakeholders about your data decommissioning plan and terminate all contracts for the service of your equipment. Another vital step to take before initiating the process is to look for and hire certified, credible, experienced, and highly specialized and robust data center decommissioning services, like CompuCycle.  
When you choose a reliable one from the several available data center decommissioning companies out there, your endeavor meets state, federal, and international security standards, ensuring the prevention of loss of data. Furthermore, while it may be your first experience with a data center decommissioning process, data center decommissioning services are highly experienced in this regard, mitigating the chances of errors and providing solutions for clientele along the way. They ensure that the process is smooth and gets completed successfully and on time through the following service offerings: 
Management and coordination of the project 

Data sanitization and hard drive data destruction  

Reselling reusable electronics and shredding others 

Recycling reusable materials from the shredded devices 

Disposing of e-waste through environmentally friendly processes 

Restoration of the site 
CompuCycle takes a very structured approach to data center decommissioning using best practices and cutting-edge systems and methodologies. It aids the process from start to end, ensuring zero environmental impact and mitigating all chances of data theft and data loss. They carefully evaluate and analyze the exact and unique needs of the decommissioning task at hand and devise a careful and custom-designed strategy for carrying it out in the most efficient way possible. After requirement identification and scope definition, and work specification, its team of expert personnel take on coordination control and execute their planning to ensure timely performance.  
With a complete focus on maintaining the overall quality of the data center decommissioning process, CompuCycle delivers on everything related to data sanitization and data decommissioning. Data theft instances in today's digitally advanced world have significantly increased in volume, giving seeking support of proper data center decommissioning services of paramount importance. The competitiveness of the corporate environment requires businesses to aptly deliver on their environment as well as data protection liabilities.  
To ensure that your data center decommissioning project does not nourish risks of jeopardizing the health of your business, and in case you have any queries about anything related to data center decommissioning services, get in touch with CompuCycle today. Do not take the security of your sensitive business information or client data lightly by deciding against seeking the support of data center decommissioning companies or opting for one that is unreliable.  
Share This Post