Industry Insights: Refurbished & Recycled Phone & Laptop Market
According to the latest released report published by Transparency Market Research, the worldwide refurbished electronics market could reach an anticipated $4.9 billion by 2027. In 2021, the cell phone recycling industry in the United States alone was a $1.5 billion industry, growing nearly 11 percent in the last five years (IBISWorld, 2020).  
The global electronic waste market, in general, which includes the already-mentioned refurbished computer hardware equipment, laptops, and mobile devices, plus a plethora of additional electronic devices like the dominating household product market, is expected to reach nearly $144 billion in revenue by 2028. With a massive market that only continues to grow, corporations like yours can benefit from the process of both buying and selling from electronic refurbishers like CompuCycle.  
The most recent reports show growth in the wholesale refurbished electronics market for several key reasons. First, as new electronic devices are introduced to the market, their life spans have become shorter and shorter, making these products obsolete much faster. Consumers are much more interested in purchasing the newest technology (think products that offer 5G, larger screens, clearer pictures, etc.), and so these products aren't staying viable in the marketplace for as long. Second, precious metals which are found in electronics have become more scarce, which simultaneously makes the demand that much higher. This makes the e-waste marketplace much more attractive and offers more opportunities for revenue generation in the future. Lastly, COVID-19 is a major factor that has forced companies and consumers to purchase and replace existing handheld, portable or small electronic devices at record rates.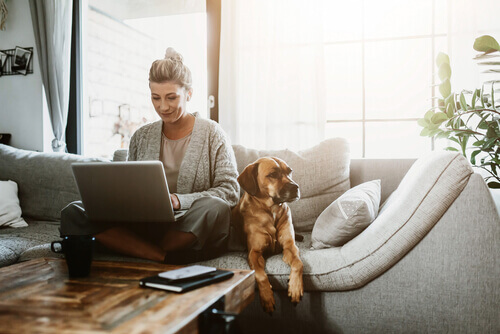 As businesses continue to experiment with hybrid or remote work offerings in the wake of COVID-19, traditional computer hardware and software, and phone needs have drastically changed. Some of this is due to employer policies surrounding safety, security, and ensuring work output remains high, but some of this is due to employee requests to ensure their at-home workstations provide the same comfort and ease as what they came to know in the office. As an IT professional, it's more important than ever to research bulk refurbished laptops for corporations like yours and refurbished IT hardware, in general.  
Why? Consider these benefits to start.
Cost savings for your organization.  
With so many businesses rushing to replace or add IT equipment to their existing platforms, new products will always come at a higher premium. Refurbished electronics companies like CompuCycle can offer your business cost savings in a number of ways. First, these companies can often work with you to take care of all or almost all of your electronic and IT equipment needs in one discounted, bulk order. For instance, if you know that your organization will be purchasing laptops, monitors (as many employees are requesting second or third screens to work off of at home), cell phones, tablets, and more, for entire teams, departments, or your whole organization, wholesale refurbished electronics prices will be offered. Second, companies like CompuCycle can often provide you with refurbished products in exchange for some of your current products, bringing your total costs down even further.  
Avoid costly and permanent changes during this unprecedented time.  
Because so many organizations are still determining what their in-office versus remote policies will look like in the future, it will be hard to know what your IT equipment needs will be with certainty. Employees are overwhelmingly asking their employers to retain work from home or remote policies, and many companies are overhauling the traditional in-office setup altogether. With so much uncertainty, the last thing organizations will want to do is invest in anything too permanent. By working with a refurbished electronics company to purchase needed assets, companies can avoid spending too much time or money purchasing products that may be helpful right now but could potentially need to be replaced in the near future.  
Reduce your organization's carbon footprint. 
Of course, one of the greatest advantages of working with an electronics recycling company to purchase recycled and refurbished IT equipment is that your company is taking a very active step in reducing its carbon footprint. With less than 20 percent of e-waste is recycled annually, your purchase of refurbished electronics can make a crucial impact on the health of our environment.  
Learn more about how CompuCycle works with businesses to purchase and sell electronic equipment or contact a sales representative from our team to get started today at 713-866-8026.   
Share This Post