The Best of E-Waste Recycling Companies
The environmental impact of e-waste is continuously growing, with 50 million metric tons of electronic waste generated each year globally. As more assets wrongly end up in landfills and are shipped overseas, toxic materials seep into our air, soil, and water systems.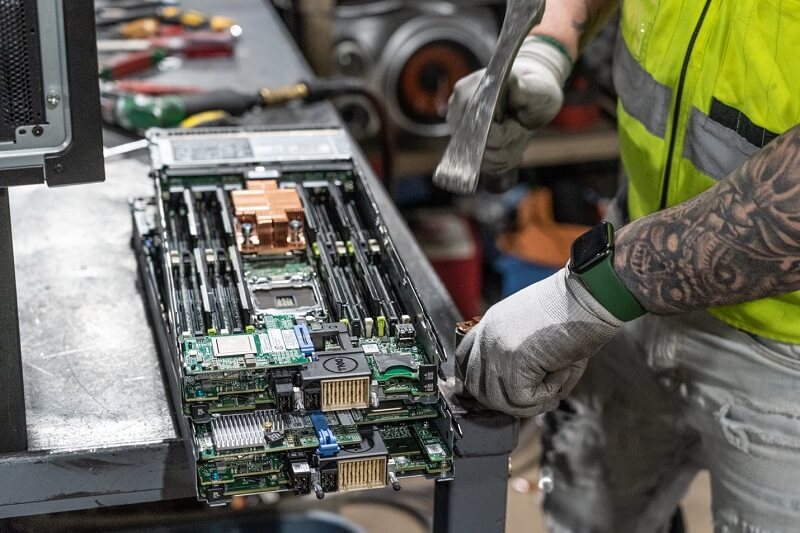 As one of the best e-waste recycling companies, CompuCycle offsets hundreds of millions of material pounds from contributing to these harmful emissions—per client. Our Houston electronic recycling facility properly decommissions every piece of equipment before sending it to our processing facility, serving as a one-stop solution for your end-of-life IT assets.
The Environmental Impact of E-Waste
All forms of waste have a negative impact on the environment, but waste produced by electronics is even worse due to the abundance of toxic materials within. Lead, mercury, zinc, nickel, barium, and chromium are a few of the toxic culprits that we are wasting in landfills rather than recycling for future use.
When electronics are not refurbished or recycled, the most likely disposal options are landfill drop-offs or overseas disposal—which generally leads to incineration. This destroys the valuable materials within electronics, which could otherwise be continuously reused. Plastics can be used in garden furniture, batteries can be reused in other batteries, and metals can be recycled into jewelry and automotive parts.
In fact, if recycling rates for just gold, silver, and platinum were increased, about $12 billion could be reinserted into our economy! This is because recycling circuit boards is more valuable than mining for ore. Imagine how much we could save—financially and environmentally—if all materials that make up our electronics were recycled.
Our Houston Electronic Recycling Facility
CompuCycle is located in Houston, but we work with national and international companies to provide secure recycling solutions tailored to each company. We are proud to offer the secure pick-up of your assets to ensure your IT team has little to no interruption in workflow.
After inventorying and auditing your materials, all data is sanitized to NIST 800-88 and DoD 5220.22-M data erasure standards. Depending on your preferences, hardware is processed by refurbishment or manual shredding and recycling.
By introducing our processing plant, we ensure no additional downstreams. This means that all your assets are decommissioned and recycled under one roof, further protecting your data from being mishandled. Not only does CompuCycle save businesses money by providing asset remarketing, but we also protect against the threat of a data breach, which averages over $4 million per instance.
One of the Few E-Waste Recycling Companies You Can Trust
The CompuCycle team of professionals is eager to support the mission of reducing the environmental impact of e-waste. Our services are tailored to companies of all sizes; we ensure the utmost security of all assets, providing our clients with certificates of data erasure and disposal available 24/7 through our online portal.
For more information on our Houston electronic recycling facility, contact us!
Share This Post