What is Downstreaming?
In the electronic recycling realm, downstreaming is the practice of sending materials elsewhere to be processed into raw components. Depending on certifications, the third-party downstream sites are often overseas—expending more energy through exportation while subjecting materials to an unknown future.
At CompuCycle, third-party downstreams are a thing of the past. We've updated our practices to include a processing facility that handles the shredding of all scrap materials. Soon, we'll be able to process a variety of electronic plastics as well!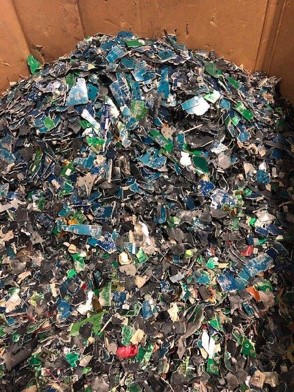 Downstreaming: The CompuCycle Way
CompuCycle has been in the business of electronic recycling for over 25 years. In that time, we've had the opportunity to innovate our methods to be the most reliable, secure and sustainable company that our clients can trust.
It all starts with an inventory of IT assets. After understanding your equipment and software, we perform a thorough and secure data erasure process that meets NIST 800-88 and DoD 5220-M standards.
The next step is to decide whether the equipment can be refurbished or recycled. If recycled, the assets are separated into shreddable and non-shreddable parts. This is where the downstreaming comes into play.
CompuCycle invested in a multi-million dollar processing facility that allows us to shred and separate all assets into the raw materials of steel, aluminum, copper, plastics and circuit boards. Once completed, we send the completely deconstructed and decommissioned parts directly to smelters, refineries and mills.
Other electronic recyclers are not involved in this part of the process. In fact, many electronic recyclers—as well as OEMs—use CompuCycle as their third-party downstream. In other circumstances, they send their materials to be processed overseas—resulting in a lack of responsibility due to the various parties involved.
Do you know exactly where your electronics are going?
A Recycler for Recyclers
CompuCycle promises to always go the extra mile when it comes to the secure, sustainable recycling of electronics. We wholeheartedly believe in the work we do for our clients—and the world. This is why we have become known as the "recycler for recyclers," a term that honors our position as a trailblazer in the industry.
So, why do business with other companies knowing that your e-scrap will end up with us (or overseas) anyways? Go straight to the source—we promise the ease of doing business with stellar customer service, unrelenting security and unmatched sustainability initiatives. Contact our team today to set up a tour!
Share This Post