The Important Role of IT in Corporate Sustainability
IT departments are essential to any modern corporation, but they can be costly. By implementing an IT sustainability plan, your department can transform from a cost-center to a profit-center!  
We are one of the few IT equipment recycling companies that innovate and exceed expectations. We don't just perform data center decommissioning, but we also process all materials—including plastics—in-house. By working with CompuCycle, you get the most sustainable solution while receiving value-back for your materials.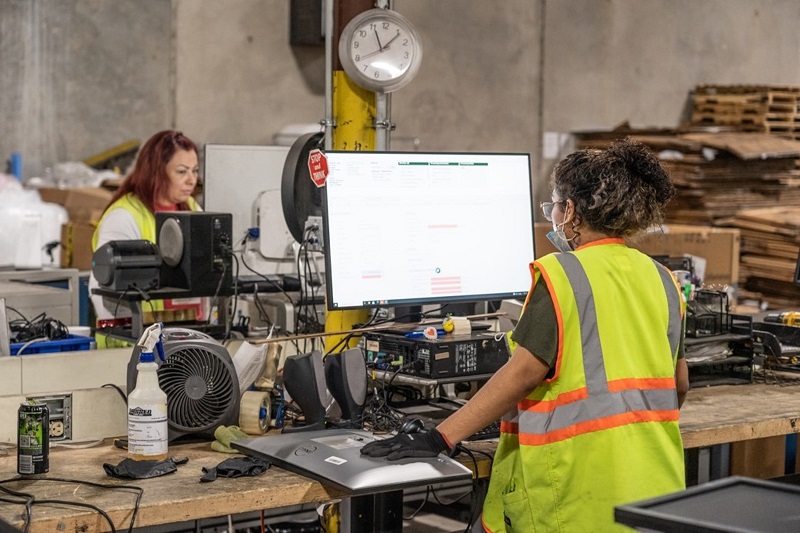 Create an IT Sustainability Plan
The CompuCycle team makes it easy for you to integrate sustainability goals into your departments. We provide tailored solutions for each client we work alongside to ensure they feel secure with our processes. 
When first contacting us, we urge you to look at our asset collection and logistics options to determine which service most closely aligns with your needs. We offer a variety of solutions, but if you don't see what you're looking for or aren't sure where to begin, reach out to our team to help get started! 
Determining your needs is the first step to creating an IT sustainability plan. That way, IT equipment recycling companies can better understand whether data center decommissioning and other services are necessary.  
The next step is to consider whether you want your data to be sanitized or destroyed. When sanitized, we perform a full wipe to clear your data and ensure nothing can be recovered. This allows for refurbishing, which grants you value-back on your materials. When destroying data, we physically shred your equipment in our state-of-the-art, fully-automated shredder. Either way, your data cannot be recovered and all materials are diverted from the landfill. 
After working with you to determine these items, the CompuCycle team will handle the rest of the processing for you. To prove your efforts in sustainability, we provide all clients with an Environmental Scorecard showcasing landfill diversion and carbon footprint reduction rates. This way you'll know exactly how working with us makes a difference.  
CompuCycle's Value
CompuCycle is your partner in sustainability. We provide what our competition cannot: an all-in-one solution to sustainability with innovative electronic recycling procedures.  
Our Processing Facility grants us the fully-automated power to shred electronics into their raw materials (steel, copper, aluminum, plastics , and circuit boards) to be sent to refineries and smelters.  
Our newly installed Plastics Recovery Plant allows us to produce clean Polystyrene, ABS, Polyethylene, and Polypropylene plastics to be set up for reuse. We are the only electronics recycler in Texas with these capabilities, proving our leadership role in the industry. We are consistently innovating in order to make your business better.  
When creating your IT sustainability plan, consider CompuCycle for your electronics recycling needs. We'll help you create a plan, revise it to your needs each year and perform the services that grants value-back for your company. Contact our team today to get started. 
Share This Post