3 Tips to Create a Sustainable Hybrid Environment: 2022's Earth Day
Earth Day 2022 is approaching, and the time to plan for it is now. Earth Day is one of the most popular global events that is celebrated to enhance awareness and appreciation of the natural environment of the earth. Organizations with hybrid work environments can play their part on the 2022 Earth Day by incorporating sustainable practices and procedures into their business routines to make sure their carbon footprint is minimal and they do not contribute to adversely affecting the environment. Earth Day is not only about raising awareness about the importance of environmental protection but about practically doing things to protect the incredible biodiversity and uniqueness of the planet as well.  
This is also the major differentiating factor between World Environment Day vs. Earth Day. While the former is more about raising awareness of the significance of acting upon sustainable practices, the latter encourages us to do something to increase sustainability.  
How Does Earth Day Help the Environment? 
Fighting against global warming, reducing, recycling, and reusing, buying green products, signing petitions relevant to the cause, cleaning parks and roads, imparting knowledge and information to people to help them understand the impact of climate change, collecting, trashing, and recycling litter and garbage, planting saplings and trees, and many other earth day activities to help the environment are carried out and promoted through various programs and events on Earth Day across the world.  
How the Environment Has Changed Since the First Earth Day?
The 2022 Earth Day is set to be the 52nd Earth Day observation after a US senator made a call for uniting for the protection of the earth in 1970. The call acted as a watershed moment, and today, Earth Day is a global phenomenon that witnesses large-scale clean-ups, parades, demonstrations, and several other Earth Day activities to help the environment. Looking at the past progress that Earth Day has (or has not) managed to make, we find that: 
– The perception of nature has become more nuanced, and awareness and knowledge about the extreme importance of environmental protection as well as the impacts of climate change have significantly increased.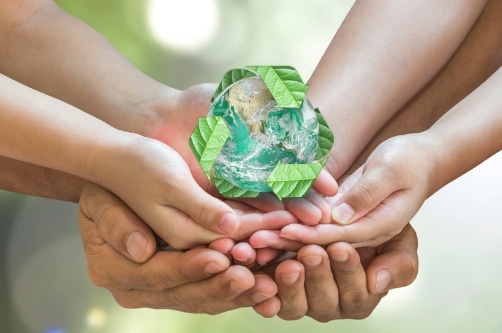 – The earth has gotten hotter each year and heavy reliance on fossil fuels, out-of-control industry emissions, increased burning of natural gas and coal for generating electricity, and more cars on the roads are only a few factors influencing the issue.  
– The volume of some major pollutants within the environment has dropped due to several actions needed by a number of powerful laws, including the Clean Air Act of 1970. At the time of the first Earth Day, smog and soot were taking their toll, making it difficult to breathe and darkening the sky, respectively.  
– There has been a major increase in recycling and reuse of all kinds of different organic as well as inorganic materials and elements, including electronics.  
– Discovery, production, and usage of renewable have increased and are continuously gaining speed.  
Create a Sustainable Hybrid Environment: Earth Day Ideas to Help the Environment 
Companies with hybrid work environments can not only significantly contribute to the green efforts starting Earth Day 2022 through the following green-friendly initiatives and sustainable models but consolidate their space in a better manner and cut their costs as well.  
Carbon Green Initiatives 
As a business with a hybrid work environment, you can offer several different green and eco-friendly initiatives to your employees, such as energy-consuming and environmentally friendly accessories in the form of rewards. Furthermore, with some or most employees working from home, you can close off certain areas of the workspace to conserve energy and consolidate your staff into zones while maintaining a safe separation between them. Using energy-efficient and eco-friendly technology, appliances, and lighting and reducing the use of paper, etc., are other small steps that add up.  
Suitable Sustainability Projects 
Combining low-energy lighting with more natural lighting and improving thermal dynamics, etc., can make a workplace more energy-efficient and minimize its carbon footprint. However, with a hybrid workplace model, the number of opportunities to take on different sustainability projects is higher. You can grow indoor plants within the workplace with the additional available space as well as redirect the energy cost savings towards awareness programs for your employees. There should be a proper recycling system for different materials within the office as well.  
Recycling Electronics 
You can mark the 2022 Earth Day for your business with the implementation of a proper electronics recycling system. Managing IT assets by tracking each device and making sure it returns to the workplace after becoming redundant can help you ensure that all the company's end-of-life electronics are collected at a single location. By partnering with an R2-certified and expert electronics recycling company, like CompuCycle, you can schedule monthly or even weekly device pick-ups.  
Share This Post