5 Factors to Select the Right IT Asset Disposition Vendor
As your organization embarks upon the journey of sourcing IT asset disposition services, it can be difficult to know which vendor is the right and the best one for your business and its unique needs. There are myriad factors that could and should be considered. In order to set your business up for success, it is important to select IT asset disposition services with these five factors at the top of your list. You'll want to ask the following questions and feel confident that the IT asset disposition providers you interview give you overwhelming "yes" answers…and then some!  
Does the company guarantee secure ITAD services?  
Your IT equipment contains a plethora of sensitive, confidential, and/or personal information. As such, it needs to be tackled with the utmost care. You'll want to ensure the IT asset disposition experts you partner with offer a truly secure chain of command. Is their facility secure? Are their trucks or vehicles secure? Have their employees go through a thorough background screening process? Are they utilizing the right shredders and destruction equipment? You can learn more about CompuCycle's secure chain of custody here.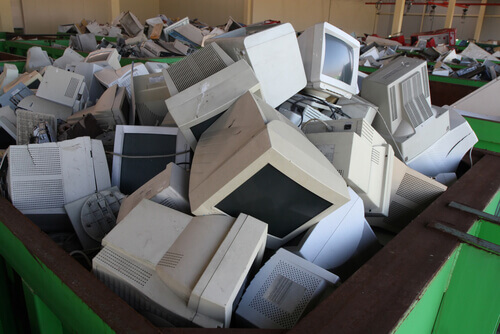 Which certifications does the company employ?  
Certified IT asset disposition providers are a dime a dozen. However, it's crucial to work with a certified ITAD company to ensure your company's sensitive information is handled with care while simultaneously keeping equipment out of landfills. You'll want to ask your ITAD partner about which certifications they maintain and what these certifications mean for you, the customer, and for Mother Earth.  
In 2011, CompuCycle was proud to become Houston's first Responsible Recycling (R2) Certified business! Learn more about our R2:2013 certification and the strenuous EPA-recognized process here. In addition to being R2:2013 certified, CompuCycle is a proud woman-owned business through the Women's Business Enterprise National Council (WBENC) and Historically Underutilized Business (HUB). CompuCycle also holds certifications and practices standards in line with ISO 9001:2015, ISO 14001:2015, ISO 45001: 2018, HUB, EPA, HIPAA, HITECH, Sarbanes Oxley, DoD, PCI, GLB, and FACTA. 
How transparent and communicative is the company throughout the process?  
It is important that your ITAD partner keeps you abreast of how the asset disposition process works and what you can anticipate each step of the way. You will likely have questions before, during, and after the process, and you always want to feel good that the company you select is open to answering and addressing these questions and/or providing you with information before these questions come up. You'll also want your partner to provide you with proper documentation for each and every electronic asset under their care. This enables you to feel confident that each of these assets is fully wiped, shredded, and recycled according to industry best practices.  
Does the company provide value back for your assets?  
One of the greatest benefits of going through the IT asset disposition process is that you can often get value back for your electronic products. Ask your IT asset disposition provider if and how they provide value back. Often, your company's network routers, servers, switches, hubs, laptops, desktops, monitors, hard drives, copiers, racks, shelves, and so much more still hold value and can be resold, especially if they are in good working order. Typically, an audit at the beginning of the process will enable your ITAD partner to offer you a general quote of what you can expect. You can learn more about CompuCycle's remarketing process and the types of equipment that may be valuable here.  
Do your values align?  
Ultimately, do you feel the company you are working with is doing its part to take care of the environment and you, the customer? If diversity in leadership is important to you and your organization, be sure to ask about this, as well. Has the company you're interviewing won awards showcasing that the team members enjoy working there, that they are committed to growth, and/or that leadership is admired? You want to feel good about the company you're working with and confident that your values as businesses align. 
At CompuCycle, we simultaneously take care of our customers' needs and those of the environment, ensuring that while we protect your sensitive data, we do so in a way that is environmentally sound.  
Learn more about our asset disposition process and secure ITAD services or call a sales representative to get started today at 713-866-8026.   
Share This Post