6 Ways Your Organization Can Go Green this Year
A business does not have to reduce its overall production of materials or usage in order to go green. Let's adopt responsible recycling for 2022.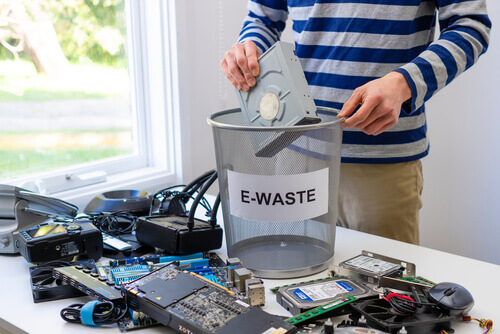 Here are some ways to make more people interested in working for you and inclining more customers to purchase services and products from you by being greener. 
1. Conduct an Energy Audit
Evaluating your systems and processes to identify steps you can take to decrease your costs by enhancing sustainability is a step itself in the process of getting more efficient. Energy audits appeal to eco-conscious employees as well as budget-conscious ones. You can inform your clients about it as well for better PR.  
2. Involve and Educate Your Employees
Not all sectors and industries can go net-zero in a whim if they are to keep their businesses afloat in the market. However, they can contribute to the efforts by supporting the companies and organizations that are going for it. You can educate your employees about how they can help the cause and encourage them to create better eco-conscious behaviors. This will make going green an integral part of your corporate culture as well as create camaraderie, develop an active and genuine approach to making the world a better place, and enhance joint team efforts within your organization. 
3. Reduce the Addiction to Convenience
EPA estimated four years ago that an average individual makes around 4.51 pounds of municipal solid waste every day. Imagine where the number must be now. By educating your employees and molding your business practices to make their everyday habits to revolve around items that are single-use can reduce the amount of footprint your business produces. A few simple examples of it are encouraging your employees to bring refillable cups and water bottles with them and placing hand dryers in the restrooms and kitchens instead of using paper towels. Similarly, using bags that are reusable and going for eco-friendly packaging along with a lot of other environmental-friendly practices can help your workspace go paperless.  
4. Opt for Online Bills Payment
You can easily set up a direct online transfer for your organization's utility bills payment and mitigate paper mail. Going digital on many fronts can help your business become greener. 
5. Utilize Crowdsourcing
Encourage your employees as well your vendors to share their ideas and thoughts with you pertaining to making your business go green. Recycling and energy efficiency are not the only ways you can help with the endeavor, and innovative ideas that apply to your business's particular workplace conditions and processes can be extracted out of the people who work on them. You will be surprised at the variety as well as the brilliance of the suggestions you receive. You can hire a specialized consultant or sit down with your teams to discuss the feasibility of all applicable and effective ideas and plan their implementation. A promising impact can be made by taking this step.  
6. Recycle Your Electronics
Make it a policy around your organization never to throw any end-of-life or redundant electronics in the trash. The impact of IT devices that make their way to landfills on the environment is highly detrimental to the ecosystem. By going for electronic recycling secure solutions, you not only help the world by rendering it cleaner but also benefit people and communities in need. This is so as the electronics that you think cannot work anymore or you do not require further can be refurbished and resold at lower prices to make technology available to those who cannot afford new devices. 
Not only that, but green recycling offers your business value against your obsolete devices and keeps the environment from facing damages that it otherwise would have. E-waste is the waste stream that is growing the quickest in the world has crossed the 60 million tons mark in 2021. It is a major problem that is growing at a significant pace and can only be remediated through e-cycle electronic recycling.  
A number of businesses do not even know that there is a thing called electronics recycling. Houston businesses, along with many others in the US, often replace their computers and throw the old ones in the trash instead of going for computer recycling. Apart from environmental and CSR benefits, computer hardware recycling from an R2 certified and reliable electronics recycling company, like CompuCycle, ensures that the data stored in your hardware remains completely secure.  
It is true that a business cannot go green overnight, but by implementing the above-mentioned steps, your business can be well on its way to being environmentally friendly. Make sure you make electronic waste recycling a part of your waste management system by getting in touch with CompuCycle to schedule a pickup or delivery of your redundant electronic devices.  
Share This Post