CompuCycle has a BIG announcement!
CompuCycle is excited to announce that we will attempt to set the world record for "the most consumer electronics recycled in an 8 hour period at one venue". 
We will need your help! Start your spring cleaning early and participate in Earth Day by bringing your old electronics to be recycled on April 25th at 3310 Bissonnet St. Houston, TX 77005 from 6 am – 3 pm and be a part of this awesome experience!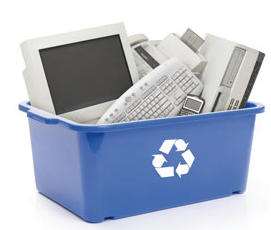 Last year's Earth Day drive collected around 100,000 pounds of electronic waste. Help us beat that this year and set a world record! It is not a world record just for the sake of a world record, but a great initiative that will spread awareness about the dangers of e-waste and help preserve the environment by keeping all these electronic devices from making their way to landfills from where they can potentially seep into water bodies and contaminate the soil and negatively impact the natural ecosystem.  
CompuCycle wants all citizens and businesses of Houston to own the responsibility and make it their policy to always hand over the electronics they do not need anymore, only to e-Stewards certified and international regulations compliant electronics recycling companies. We can not just save the environment from hazardous implications but contribute to natural resources and energy preservation as well.  
If you cannot make it to the drive for some reason, you can always drop off your electronic devices at CompuCycle's drop-off facility. Businesses of all sizes can get in touch with us to schedule a pick-up of their IT assets. CompuCycle has responsible and state-of-the-art processes for secure data destruction, electronics shredding, and recycling of all IT assets. We have a fully secure facility and a hi-tech shredder that ensures that all devices are shredded into tiny pieces. Your confidential and private data and information stored on your devices are always safe with us as we securely wipe them off for good. 
We have a safe chain of custody for your old electronics, and our specialized team and modern equipment ensure minimal human handling of all devices. CompuCycle sorts out the electronics for devices that can be used and resell them after thoroughly testing and refurbishing them. CompuCycle ensures the following benefits: 
– Proper disposal of e-waste and e-scrap protects the environment from negative impacts that can potentially harm public health. 
– Safe and secure destruction of data previously stored on the devices ensures that it does not go into the wrong hands or get misused. 
– Resale of used electronics after comprehensive testing and refurbishing allows underprivileged communities and individuals to access technology that they otherwise could not afford. 
– Accepting e-waste keeps it from being shipped to underdeveloped countries and damages the health of emerging communities. 
– Reuse of electronics preserves natural resources and energy required to develop new ones.  
– Recycling of materials, such as aluminum, copper, and metal, allows for them to be used in the production of different new products. 
CompuCycle has plans to extend its programs and activities to other cities and states as well. We are committed and dedicated to resolving the issue of e-waste and minimizing the harmful effects it has already brought upon the environment. We are an e-Stewards certified and compliant company that is responsible. Our team members are specialized in what they do and are passionate about the cause. Other than the drive, we organize many different events and activities to promote public awareness throughout the year. 
You can visit our website www.compucycle.com to learn about our services and mission. By handing over your old electronics to us, you will be contributing and supporting several good causes, as mentioned above. CompuCycle is not just about electronics recycling but safe and secure disposal of sensitive data and corporate and personal information as well. Did you know that data stored on electronic devices can be restored even after you format the device? This makes you vulnerable to threats and cyber dangers if you do not ensure secure destruction of your IT assets.   
You can also check out the list of many events and activities that CompuCycle organizes throughout the year. By visiting the website on a frequent basis, you can stay up-to-date about our upcoming events and participate in them to contribute to a better, safer, and more prosperous future. We are hopeful that we will secure the world record in the upcoming drive as Houstonians have always proved to be up for tasks that are aimed towards good. We wish to develop a strong and tightly-knit community of people that fights together, the battle against e-waste and spread awareness about the issue. With adequate recycling of electronics, we can make a significant positive impact.   
Let us join hands and make it happen, Houstonians! 
Share This Post