Migrating Data to the Cloud: How to Deal with Decommissioning Old Technology
Has your organization charged you with tackling the data center decommissioning process? While it may seem overwhelming, with the right partner, this process can be pain-free…and even easy!  
So, what is data center decommissioning?  
You likely know that your organization's data center is the physical location used to house the majority of your electronic and IT equipment, but especially backup generators or power sources, security systems, connection or communication devices, and servers. While much of this equipment serves as a backup or redundancy source for your business, it also contains thousands upon thousands of sensitive or private data points, which are pivotal to your company's day-to-day operations and success.  
Decommissioning a data center is the process of removing, retiring, or shutting down (and then, typically, replacing) old or obsolete IT or electronic equipment, including computers, servers, hard drives, and more. This process frequently occurs in tandem with setting up and migrating data to a private cloud system. More and more companies are opting for cloud-based operations to reduce IT-related expenses, streamline operations, or commit to a more sustainable future.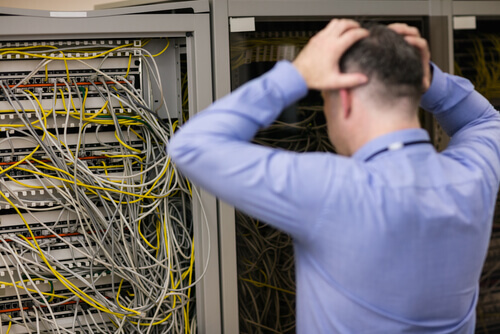 How do you ensure IT asset decommissioning is done properly, safely, and securely?  
Datacenter decommissioning services can occur for a variety of reasons: your organization is migrating its IT infrastructure to the cloud; your organization is upgrading IT assets and/or looking to save on maintenance or electricity costs; your organization is moving from one facility or location to another; your organization is consolidating various data centers into one, centralized location; your organization is closing or being sold to another business; and more. Regardless of the "why," the process must be handled by a certified ITAD company that takes server and hard drive sanitization and destruction, electronics recycling, and asset management incredibly seriously.  
In addition to researching and selecting the right data center decommissioning company, another crucial element to a safe and streamlined decommission job is proper planning and preparation. At CompuCycle, we work with our clients to ensure they receive a checklist well in advance of the IT asset decommissioning process…and we work with clients to ensure we are here to help before decommissioning even begins! Some of these checklists items include but are not limited to:  
Deciding on and committing to a holistic decommissioning timeline, which includes potential downtime, security procedures, and if decommissioning will take place during slow hours or outside of official business hours. 

Network discovery via various software or physical research to ultimately develop an IT inventory. 

Arrangement of any helpful or needed machinery, such as forklifts, hoists, tip guards, and pallets. 

Auditing and tagging your electronic assets with serial numbers to clearly organize which assets will be destroyed, which will be replaced, and which will be reused.  

Verifying and developing crucial backup systems to ensure your organization maintains power, communication, and connectivity throughout the process.  

And more!  
The simplest way to ensure your data center is decommissioned safely, securely, and thoroughly is to work with a certified, responsible, and well-respected ITAD company, like CompuCycle. At CompuCycle, all of your electronic devices are recycled in adherence to the strictest R2:2013 practices and industry-specific regulations, including ISO 14001:2015, OHSAS 18001:2007, HIPAA, HITECH, Sarbanes Oxley, DoD, PCI, GLB, FACTA, and state and federal regulations.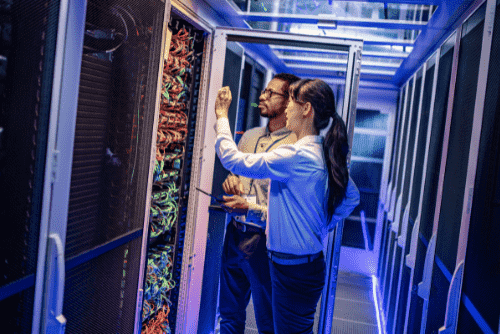 Of course, the most pivotal component to ensure your data center is decommissioned safely is the deinstallation and decommissioning process itself. While it involves many steps and security precautions, during decommissioning, your ITAD company will erase data from and/or shred all devices which will be resold or recycled. Depending on the size and quantity of equipment, shredding may take place at your place of business or off-site. If off-site, be sure to confirm with your ITAD supplier that they are handling shredding on-site, at their facility, and not through a third-party vendor.  
Additionally, during decommissioning, your hardware will be disconnected from firewalls, subnetworks, and power supplies. Finally, your company's server rails, racks, shelves, and drawers will be removed and securely packed for relocation.  
At CompuCycle, we begin the IT asset decommissioning process with a pre-bid site visit where we determine the scope of work. From here, we provide a detailed proposal that outlines costs and project parameters. Once you approve, we begin the process of scheduling our engagement.  
Learn more about CompuCycle's turnkey IT asset decommissioning services or contact a sales representative to get started today at 713-866-8026. We would be honored to serve as your partners in this pivotal process for your organization!  
Share This Post