Recycling in the US is fragmented. How does CompuCycle secure It?
The recycling industry, especially electronic waste recycling in the United States, has been facing several challenges for quite a few years. Pandemic and price inflation continue to fuel the issues, while fragmentation is another major factor that is playing its role in diminishing the volume of recycling. In this article, we will discuss how fragmentation is affecting electronics recycling and how we can fix it.  
When compared to the petrochemicals and fossil-fuel industries, the E-cycle electronic recycling industry has always been far more fragmented due to the small sizes of the e-recycling plants. To make things worse, the Covid-19 pandemic began, and the collection of computer recycling and electronics recycling devices from organizations took a blow as the efforts became more difficult.  
The approach to e-waste recycling is also fragmented in the country, and it is polluting the environment, as well as misleading the consumers. With so many uncertified recyclers offering "free or cheap" recycling services, many individuals and corporations are misled and select such companies. Uncertified companies do not pay for true electronic recycling certification with E-steward, and they are able to offer low pricing, as they do not have any obligation to recycle items properly or correctly. These irresponsible companies are relying on shifty languages such as e-Stewards Compliant or EPA certified. This type of verbiage has nothing to do with responsible electronic recycling practices, and therefore, one cannot be sure that the equipment was handled and destroyed securely. 
How Tech Recycling Fragmentation Can Be Fixed?
The first step to bring a halt to fragmentation is to create a single definition of true, environment-friendly, and optimally beneficial electronic waste recycling that prevails across the country. Most people are not aware that E-cycle electronic recycling does not encompass the several aspects and components of electronic waste recycling that it entails in the practical world. When businesses and people think that the e-recycling firms are handing over their IT devices to employ responsible and clean processes and systems, their electronics could be ending up in landfills or their companies' data is being breached. 
After the definition of electronic waste recycling is made uniform, the standards and regulations should be dealt with in the same way as well. There are laws and regulations out there, but they are not as strict or prevalent as they could be, adding to the fragmentation of the industry. The frameworks have to be rendered consistent, and the need to reimagine the American computer and electronic recycling systems have to be fulfilled. All this cannot be achieved without an acute engagement of the government.  
Several states have been passing laws pertaining to electronics recycling. The process of law-making pertaining to e-waste recycling is moving much slower than it should, and there is no shortage of organizations that are exploiting the opportunity. Houston e-recycling has somewhat benefited from the Texas laws, but they are extremely vague in nature. The biggest problem is the non-coordination between the officials of the federal government and that of the states. The end-consumers cannot be uniform in their approach towards tech recycling until and unless the lawmakers and imposers are first.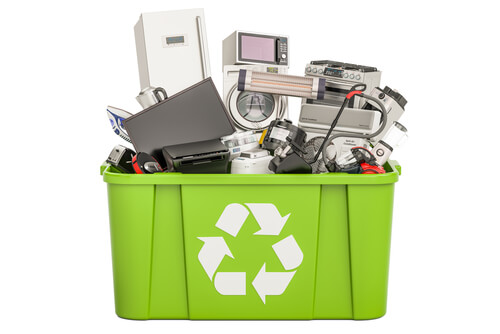 The population and businesses can play their role in this regard as well by identifying big e-recycling companies that do not let the factors that tend to diminish e-recycling efforts shake their operations. Credible, experienced, and certified e-recycling services, such as CompuCycle, that are e-Stewards Certified, are not only highly responsible but also employ state of the art 24/7 video monitoring with 53 cameras, customer portal access, secure lockdown facilities, and a proprietary shredder. All of the employees are also background checked and drug tested before hiring.    
A big step for organizations across the United States, especially those that produce high volumes of electronic waste, is to partner with such big and highly credible names in the electronics recycling industry. CompuCycle has been in business for over 26 years and has become a leader in the industry prioritizing the responsible and secure ways to e-cycle. 
The responsibility of spreading awareness about the correct and completely green electronic waste recycling processes does not lie on just the government or state officials. We, as a part of the population of the country, can also make huge strides in this regard. CompuCycle has always been proactive for this cause by frequently organizing programs and activities that encourage people and businesses to learn and actively support the e-waste recycling efforts in the country. If we all join hands to battle the current fragmentation of the industry, it can achieve uniformity as well as protect our environment. 
If you have any questions, suggestions, or concerns about anything related to the electronic waste recycling industry, get in touch with CompuCycle to receive the best possible insights. Also, businesses that want to contribute to the dis-fragmentation efforts of the tech recycling industry can do so by scheduling a pickup of their end-of-life IT assets and electronics. Together, we can protect the environment and add immense value to the economy of the country. For more information, please go to www.compucycle.com 
Share This Post