Work With an Electronic Recycling Business You Can Trust
Looking for the easiest way to destroy a hard drive? What about an entire data center? If your IT department is upgrading equipment, work with CompuCycle, an all-in-one electronic recycling business that can securely decommission and process your old equipment to ensure your data's safety while offering value-back for refurbished materials.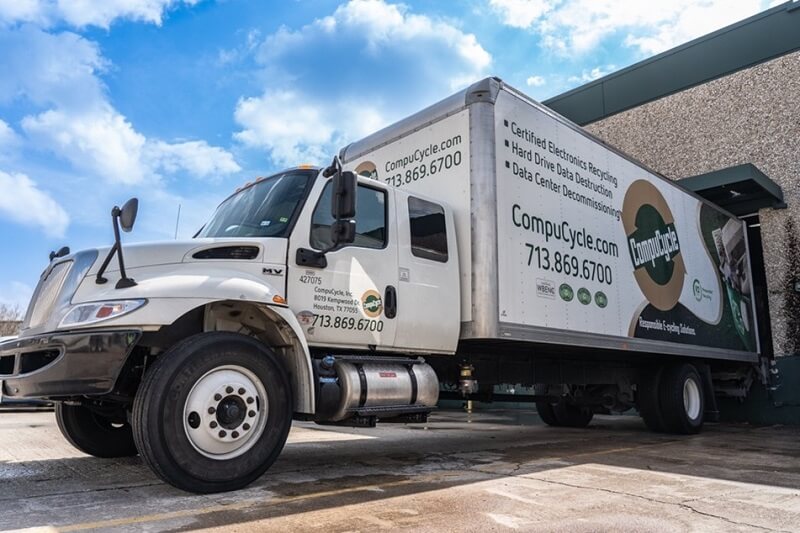 If you don't know where to begin, our Houston electronics recycling company can help. Whether you're a fellow Houston-based business or elsewhere across the globe, we can assist with both domestic and international e-cycling with tailored services to fit your needs.
Where to Start
We make it as easy as possible for our clients to recycle their end-of-life IT assets with CompuCycle. Our logistics options allow flexibility for businesses depending on your needs. If you're not seeing an option you feel comfortable with, contact our team to find a tailored solution.
At the time of collection, whether we pick up your equipment or your team drops it off at our facility, we immediately inventory your assets for reporting and tracking purposes. If you've already performed an inventory of your equipment, we can validate this by pre-loading your list into our software system.
We monitor each item throughout the recycling, processing, and final destruction or refurbishment processes. You'll never have to wonder where your items end up, as we provide asset tracking through our 24/7, real-time client portal. You can also find certificates of data destruction, environmental report cards, and more!
Your Houston Electronics Recycling Company
While we are based out of Houston, TX, we conduct business with companies worldwide. Our goal is to create a more sustainable solution for IT departments' used technology. Only 17% of global e-waste is recycled annually, with the rest being left dormant in landfills, exuding toxic waste into our water, air and soil. Not to mention, this jeopardizes your sensitive data if not properly decommissioned and sanitized.
After inventorying and auditing your equipment, we perform our secure data erasure according to NIST 800-88 and DoD 5220.22 standards. We then either refurbish or recycle the equipment based on its age and quality.
If refurbishing, we perform the necessary upgrades and sell through our global sales channels to provide you with value-back. If we recycle your equipment, we shred all parts using our state-of-the-art shredder before separating the materials to be sold to smelters and refineries.
The Electronic Recycling Business That Makes Your Company Better
CompuCycle transforms your IT department from a cost-center to a profit-center by offering value-back for refurbished materials. In addition to the premier security standards we uphold, we also provide you with Environmental Scorecards showcasing landfill diversion rates and the reduction in your carbon footprint. The scorecard can be used internally for shareholders or externally for marketing purposes—either way, we ensure our clients know exactly how recycling and refurbishing electronics makes a difference.
To learn more about what CompuCycle can offer your business, contact us! Our Houston electronics recycling team would be happy to answer any additional questions and assist with your e-cycling needs.
If you're in the Houston area, check out our e-cycling event in partnership with ABC13! From 6:00 AM to 3:00 PM on April 21st, 2023, Houston residents are encouraged to bring up to five devices for CompuCycle to recycle responsibly. The drop-off location is at our facility: 8019 Kempwood Drive, Houston, TX, 77055. See you there!
Share This Post